Seminars
Amiga Software Development in 2017
Sebastian Bergmann
Saturday, 13:00 Seminar Room on second level
Two years ago, at Evoke 2015, I shared my experience of turning on my Amiga 1200 for the first time after 17 years of not using it. This year I return to show how you can develop software for AmigaOS using Assembler and C on Linux. We will cover cross-compilation with GCC and vasm as well as emulation with fs-uae and vamos, for instance, and use Docker to containerize our toolchain.
Bio
By day, Sebastian Bergmann helps development teams as a consultant to successfully craft the right software using PHP. By night, he enjoys Amiga retrocomputing and Lego macro photography as well as hacking on open source software. During the Amiga's heyday he coded doors for AmiExpress and FAME. He also dabbled in ASCII art as well as music composition and remixing with ProTracker.
Light Force: Making demos look incredible good by using Global Illumination
Fizzer

Saturday, 16:00 Seminar Room on second level
The physical simulation of light stands as the vivid beating heart of realistic computer graphics. Without accurate and dynamic lighting there is no chance to produce a look resembling the real world as we see it through our human eyes. In the world of computer science a fantastic amount of effort has been made to develop such highly-complex yet blindingly-fast simulations, and occasionally the world of the demoscene has weighed in on this wonderful field of endeavour.
"Light Force" takes you on a journey among the illuminating stars of light simulation from demoscene history, surveys the recent cosmic explosion of globally-illuminated demos, and attempts to plot a course for the future.
Bio

Fizzer is a life-long graphics programmer, born in the UK but now living in Germany to persue his dream of eating Bratwurst and Schnitzel.
VR CG: Creating Cyberdelics and Alien Embryos
Vladimir Storm
Saturday, 18:30 Seminar Room on second level
The talk will cover several experimental art Virtual Reality (VR) experiences in detail. Best practices people use to design and develop VR worlds. It will show how to use Raymarching and Compute Shaders to create VR specific simulations, interactions and materials.
Bio
Vladimir Storm studied Radiophysics and Computer Science and, at the moment, he is focused on VR/AR/MR, VFX, interactive computer graphics, computer human interactions and AI. He's got more than 10 years of experience in game development, interaction, UX and game design while working as a creative and art director on various software, game, tech and art projects. He did several psychedelic and art VR experiences in the last couple of years and run Creative VR meetup in Berlin.
Music
The Cybernetic Love Commandos [Leuven]
Friday to Saturday, 23:00-0:30
The Cybernetic Love Commandos are the project of FRaNKy / Royal Belgian Beer Squadron. Born in the same town that gave the world The Neon Judgement and Front 242 the CLCs bring the cold and dark second half of the 80 - when Belgians decided to start playing records on a faulty RPM setting and discovered the deep and slow bass sounds - back to life. This sound got a name: New Beat. Influenced by EBM - a Belgian product as well - and Acid / House from Chicago, a multitude of underground tracks were created and are descriptive of the final period from the Cold War, as seen by Belgians. New Beat is not happy Italo Disco, New Beat is slow mental state of "we are all doomed" with a pinch of insanity overflown with beer.
Ronny Pries [Hamburg]
Friday to Saturday, 00:30-2:00
Let's assume you weren't living under a rock for the last twentysomething years and Ronny
already made you sweat at a demoparty. The question is: what will he prepare for two decades
of Evoke? The usual suspects? Party like it's 97? The usual suspects for party like it's 97?
Something completely different? A medley of James Lasts greatest hits while serving a fine
selection of single-malts from the Isle of Islay? Be prepared for, eh, something.
Bullet [Frankfurt]
Friday to Saturday, 2:00-3:30
Bullet, born lucky in 1975, was able to experience the late 80's and complete 90's with all their temptations. In the demo scene he established himself in the pre-internet time as distributor of 3.5" diskettes, initially for smaller groups such as The Lordz or Prestige, later he joined Lego together with his buddies Decca and Rackler. Along with the scene he developed a deep love for Frankfurt trance and techno sound which lasts until today. Clubs like legendary Dorian Gray, Omen or U60311 became his second home and shaped the desire to act behind the turntables. In addition to several residents in local clubs performances in the Palazzo in Bingen and Euro Palace Wiesbaden as well as several tours inside Germany fill his biography. He also was resident at one of the first internet radios (cyberchannel.de) during weekly cyber night. Bullet represents and lives for the trance and techno sound of the 90s.
Logicoma [United Kingdom/Norway]
Saturday to Sunday, 1:00-3:30
Born from a drunken conversation at TRSAC, Evoke presents Logicoma Live. 2/3rds colourblind, 100% hipster, the trio consists of Ferris, Wobble and Hoffman who will be playing a bass heavy selection coupled with live syncopated visuals - forming an intense audiovisual experience you don't want to miss! Exclusively at Evoke.
Black Maiden Hi-Fi [Cologne/Zurich]
Sunday, 11:00-12:00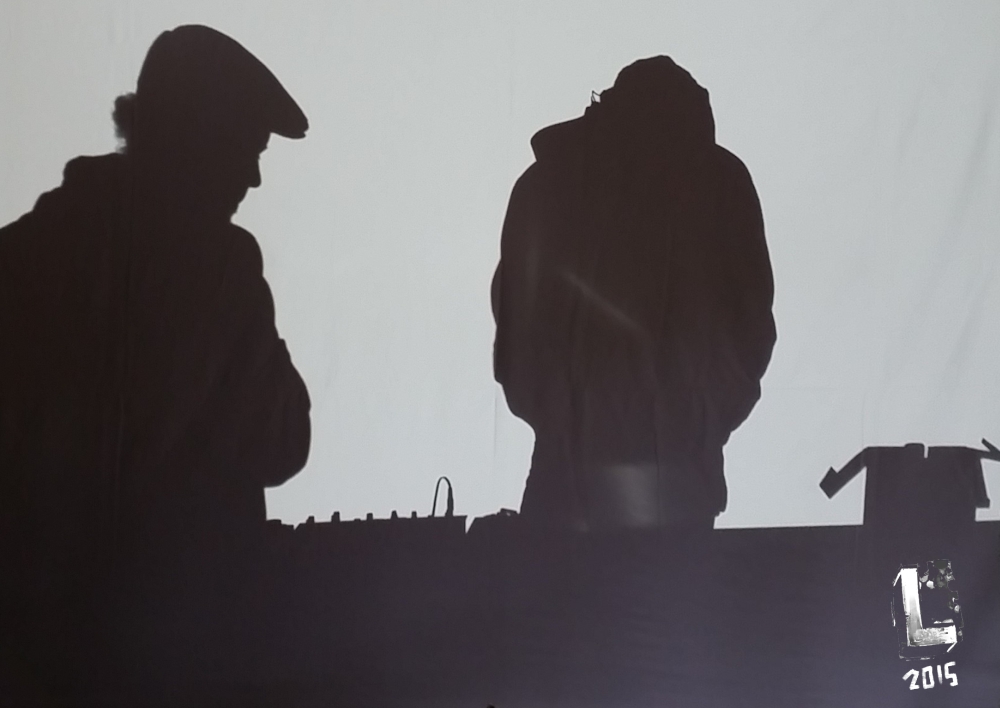 Black Maiden Hi-Fi are Faxe and Dipswitch from the same named demo- and ansi-group. Since nearly a decade, they occasionally team up and spin roots reggae, uk dub, and other bass-heavy music they both enjoy. At Evoke, they will play some records on Sunday morning to help you recover from the night before. (Photo courtesy by Luisa)