VJS
RITMIKA
Z99 (riga/latvia)
z99 has been heavly involved with both electronic muzik and demoscene (where's he is better known as raver/PHT/DCS) for more than decade, though he started to VJ just 1.5 years ago. at a factory rave & demoparty called PHAT2 in Riga z99 been organizing, he met his southafrican mate rawhed currently residing in London and it resulted in rawhed joining PHT to help realizing z99's visual ideas. using rawhed's demosys, z99 started to experiment with it soon discovering he enjoys playing it live rather than working on final product. constantly sharing experience and developing algorhythms for improving the engine's functionality and live effectivity, z99 started to VJ using his scripted compositions. quickly gaining recognition in his homeland, he been performing in quite some parties in Latvia and Lithuania, doing visuals for artists like sutekh, ibrahim alfa, kabuki, under ten hurtz, djbrain, fee.nix-z, marcin czubala, kritikal mass, b.key, submerged, selffish and subwave among others.
z99 creates his own 3D space using particles, 3D objects, photos, filters, flashes and other fx, he seldom uses video cuts if any. it's all being controlled realtime with several programmed switchable keyboard layouts, so VJing for z99 is much like playing piano. by defining controls of everything he wants, it's possible to tightly sync video to audio, limited only by fact human got just two hands. the way z99 scripts also gives a lot of variation and includes experimenting each performance thus making it more live and unpredictable.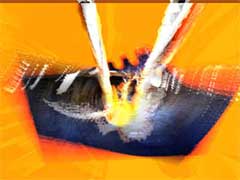 S-VHS KOMMANDO
(germany)
The 'S-VHS Kommando' is a special unit grown out of the Park Studios artist collective. Main field of work is the creation and live composition and projection of highly stimulating visuals to enrich the flair in the area of operation.
Insecure sources report, that the unit has special training in the field of analog engineering in conjunction with artificially generated and digitally tweaked resources.
The unit has been loosely attached to be the author of the slogan 'Viva la resolution', which has influenced many visual soldiers during the cold VHS-war in the early 80īs.
Link
s-vhs.parkstudios.net