partners
A demoparty without partners and sponsors is not possible. We would like to thank them for their support.
Intel

Intel, the world leader in silicon innovation, develops technologies, products, and initiatives to continually advance how people work and live. www.intel.de
ATI

ATI Technologies Inc., a world leader in the design and manufacture of innovative 3D graphics and digital media silicon solutions, is supporting Evoke 2006 as a Sponsor. www.ati.com
Celoxica

Celoxica pioneered the use of C-based languages in FPGA hardware synthesis and system on a chip design. It sold its first commercial design tools in 1996 and its technology is used by some of the worlds leading semiconductor vendors and system design houses. As well as providing the worlds most used C-synthesis technology, Celoxica also supplies a range of very high performance FPGA development boards. www.celoxica.com
Jens Schneeweiss

Technische Systemprogrammierung, Jens Schneeweiß - Five highly qualified software engineers develop solutions for the industry. Their office is located in Herten, Germany, between Recklinghausen and Gelsenkirchen in the northern Ruhr area. The goal of their participation is the support and advancement of creative programming and the appreciation of a sportive spirit about software development. They pay utmost respect to the participants of the 4k / wild demo contests for their achievements on expanding the borders of what's possible in regard to RAM, performance and real-time requirements. www.schneeweiss.de
LANG Audiovision AG

Being a company, which has first established its place within the market presenting slide projections and exceptional creative ideas and features, they make it they first business in following development of technical innovations. Continually they pick up the most interesting ideas in audio-visual techniques, so that they can further develop and promote them until they reach optimal operation. www.lang-av.com
Netcologne

NetCologne, since 1994, operates as a local internet and telephone service provider in Cologne and the surrounding area. During that time they've built their own fibre-network across Cologne, making it one of the most modern telephone- and internet-infrastructures in Europe. We thank NetCologne for supporting this years Evoke with internet connectivity via their service. www.netcologne.de
demoscene.tv

We are happy to welcome the demoscene.tv staff at Evoke, to feature a live broadcast of our demoparty during the time Evoke takes place. Demoscene.tv strives to share and broadcast artwork urging from demoscene artists and stakeholders. DTV offers a video stream (via Winamp and browser) and associated services to allow groups belonging to the digital artscene to diffuse their creations. www.demoscene.tv
If you or your company want to support this fine event in any way possible, simply get in touch with us for further information.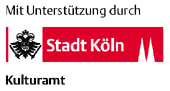 The cultural department of the city of Cologne supports Evoke 2006.
Evoke is organized by Digitale Kultur e.V. The association aims at supporting the demoscene with a special focus on activities in Germany.
Newsletter
All important information on evoke will be announced through our mailinglist. Simply subscribe by entering your email in the field below.